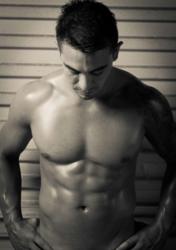 Irvine, California (PRWEB) October 26, 2012
Stark Personal Training located in Irvine, California in the heart of Orange County, develops a creative approach to raising money for charities using an age-old marketing tool: sex appeal. In an effort to get the entire team focused on raising social awareness through good old, healthy competition, the thirty-day event (exhibiting somewhat risqu? photographs) demands involvement by everyone at Stark. Im all over it, says Chelsea McCrea, 23, a receptionist and trainer in training, and the current front-runner in the contest. Dont tell my boss Im spending all day on Facebook, she whispers through a smile.
Its a bit of a bait, because theres no real nudity; at least according to Facebook guidelines, says Todd Vande Hei, 44, President of Stark. Stark Naked is a photograph competition hosted on Starks Facebook Fanpage. Almost the entire staff began training hard, dieting perfectly, and following a show-prep-like process for the shoot, rending every bit of fat possible from their bodies.
It was really a lot of fun, states Brad Davidson, 36, V.P. of R & D at Stark. I would say the Old Guys [Davidsons team] worked the hardest. The voters will be the judges. So, go vote, but vote for the Old Guys, says Davidson with a wink.
According to Kristina Kasper, Fat Loss Specialist at Stark, the contest inspired tremendous focus. Even though were in the body business, were human. We still need a purpose. I worked so hard I lost two inches on my thighstwo inches, a problem area my entire life. I look better than I ever have, even after three children and at thirty-nine years old; without the competition, Im not sure I would have made so much progress, says Kasper.
The Stark competitors, comprised of trainers, strength coaches, nutritionists and office staff were grouped into teams of two and three, each representing a single charity: Royal Family Kids Camp, Beckstrand Cancer Foundation, The Finally Home Foundation, Court Appointed Special Advocates (CASA) of Orange County, and MIKA Community Development. The team with the highest number of votes earns a donation from Stark for their respective charity.
Stark Naked started as a water cooler-like challenge with some of our people claiming to have the best abs, or legs, or other various body parts. Were in the body business. Its a normal topic of conversation for us, says Vande Hei. Deciding to put our money where our mouth is, were letting our fans decide. However, there wasnt enough purpose to it. Thats when we decided to take our clothes off for a good cause and engage with some meaningful local charities.
According to Vande Hei, being creative during the U.S.s tepid recovery is essential to survival. Contributing to something bigger than oneself (the charities) helps keep the organizations sense of purpose clear, enhance pride of team, and keep morale high. Stark Naked seems to be a bit of both those: creative and the sense of being a part of something bigger.
Stark is the coolest little gym in America (the companys slogan), says Jesse Gawinske, one of Starks Generation Y personal trainers. This project was cool.
The Facebook competition continues through November 18th at which point the votes will be tallied, and a winner announced. To cast your votes, go to the Stark Naked Application at http://www.facebook.com/starktraining. Be sure to look for future posts by Starks client base; they seem to want to partake in the competition, adding a whole new reason to get healthy.