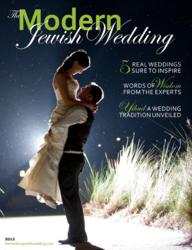 Austin, TX (PRWEB) October 15, 2012
Wedding lovers, event planners, family, friends, fans and readers of The Modern Jewish Wedding website chose a beautiful bride and groom and one of their memorable wedding photos for the first cover of The Modern Jewish Wedding E-Zine, which launched today. The winning cover photo features Amys and Aarons beautiful wedding in Isle of Palms, South Carolina, in a photo by Richard Bell Photography.
The popular cover design, a nighttime photo of the bride and groom taken during their wedding reception, was chosen in a 5-day reader contest that also included wedding pictures from brides and grooms in California and New York. More than 14,000 visitors went to Modern Jewish Wedding.com and its Facebook page during the voting period from Oct. 3 8.
With the launch of The Modern Jewish Wedding E-Zine, a Jewish brides guide to the Chuppah, brides-to-be, grooms, wedding planners, and all who love weddings will have access to exclusive planning tips from wedding experts, updates on the latest aisle trends, a grooms guide to his ideal registry, and stunning photography of five different weddings.
Michele Schwartz, CEO, Jewish life cycles expert, creator and editor-in-chief of The Modern Jewish Wedding, said she created the E-Zine because she wants to give wedding lovers access to the best expertise of the wedding industry. She also thinks it is important to show brides-to-be how to plan a wedding that matches their relationships style and faith.
The Modern Jewish Wedding gives our readers the newest ideas and inspirations for Jewish wedding planning, Schwartz said. The E-Zine is easy to use and serves to spark conversations between Jewish brides and their wedding planners. Now, brides-to-be can discover wedding trends that parallel their relationships style, and wedding planners can learn Jewish customs while being inspired by new creative ideas.
The Modern Jewish Wedding E-Zine includes a Q&A with event designer Amy Atlas, internationally recognized for creating the stylized dessert bar trend and author of Sweet Designs: Bake It, Craft It, Style It. Other departments include a guest column by Chris Easter, co-founder of The Man Registry, who gives his perspective in The Grooms Guide to the Man Registry.
The Modern Jewish Wedding E-Zine also mixes modern style with tradition by providing an exclusive look into five real weddings. Professional photos of the weddings show Jewish brides how to showcase their individual personality while still incorporating important customs.

????The Conservative Wedding: a couple from New Rochelle, N????.Y. shows their traditional style by using a Ketubah from Israel Book Shop in Brookline, Mass.
????The Reform Wedding: the Minneapolis, Minn., couple hired award winning event designer Amy Zaroff to plan their special day.
????The Interfaith Wedding: the couple from Montecito, Calif. was married there at the brides private estate where they danced the night away to music by both a performer and DJ.
????The Orthodox Wedding: The New York school teacher and her husband married at The Please Touch Museum in Philadelphia.
????The Destination Wedding: Hoboken, N.J. couple and cover contest winner traveled down the coast for their beautiful evening beach wedding in Isle of Palms, S.C.
Gina Manlove, event planner and avid reader of Modern Jewish Wedding.com, says she refers to the website often because it displays real weddings for inspiration as well as exposes wedding planners to Jewish customs. She thinks the new E-Zine will serve as another source for people to learn about stylish and up-to-date Jewish weddings.
Modern Jewish Wedding.com has a great mix of real weddings for inspiration, Manlove said, as well as practical advice for wedding professionals who want to familiarize themselves or learn more about Jewish customs and rituals. Knowledge is power, and being able to speak intelligently to clients and understand their point-of-view a little better is always a good thing as a professional planner.
Manlove thinks no other source provides the total package like The Modern Jewish Wedding. She said couples looking for a fresh, honest and stylish approach to Jewish weddings and who need information about ketubahs, Chuppahs, food, interfaith questions, and how to work with a rabbi are all found conveniently in The Modern Jewish Wedding E-Zine.
About The Modern Jewish Wedding

Created by Chief Event Organizer Michele Schwartz, an expert on Jewish celebrations and ceremonies, ModernJewishWedding.com helps Jewish brides, grooms, families and event planners create once-in-a-lifetime celebrations with meaningful observances. Whether brides and grooms want a traditional Jewish wedding celebration or a wedding with Jewish touches, The Modern Jewish Wedding shows them how to combine the newest visual design and special event trends with beloved and hallowed Jewish traditions. Modern Jewish Wedding features photos and stories about real weddings ideas, resources, and inspiration to create a wedding that reflects a couples unique personalities and relationships. Its first E-Zine, The Modern Jewish Wedding, a Jewish brides guide to the Chuppah, premiered October 2012.
Wedding Event Credits

Editorial Partner: Two Bright Lights
Westchester, N.Y. Photographer: Casey Fatchett Photography, Floral Designer: Arcadia Floral, Reception Venue: Glen Island Harbor Club, Dress Designer: Alvina Valenta, DJ: Steven Scott Entertainment, Shoes: Badgley Mischka, Ketubah: Israel Book Shop in Brookline, MA (by Mickie Caspi)
Minneapolis: Photographer: Erin Johnson Photography, Event Designer: Amy Zaroff Events + Design, Floral Designer: Richfield Flowers and Events, Reception Venue: Metropolitan Ballroom
Montecito, Calif.: Photographer: Frame 36 Photography, Editorial Partner: Two Bright Lights, Caterer: New West Catering, Event Planner: La Fleur Weddings & Events, Floral Designer: Camilla Couture Floral, Musicians: Ybarra Music, DJ: 11H Entertainment, Lighting: Ambient Event Design, Linens and Coverings: LaTavola Linens, Equipment Rentals: Classic Party Rentals, Makeup Artist: TEAM Hair and Makeup, Officiant: Weddings With Spirit
Philadelphia: Reception Venue: The Please Touch Museum, Photography: Susan Striping, Videography: Martins Video, Floral Design: Amaranth, Bridal Attire: Monique Lhuillier, Entertainment: Sally Mitlas Productions, Catering: Prestige
Isle of Palms, S.C.: Photographer: Richard Bell Photography. Event Planner: Jubilation. Reception Venue: Wild Dunes Resort