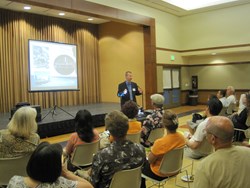 Glendale, CA (PRWEB) February 09, 2013
Achieve Financial Success in 2013 experienced success with a record number of attendees. The event was held in Glendale, CA on Tuesday, February 5, 2013. Due to high demand, a second event will be held the following week on February 12, 2013 in Yorba Linda, CA.
The focus of the event was achieving financial success by learning and emulating the same strategies the wealthy use. The two speakers covered topics such as estate and gift tax, determining tax exemptions and deductions, asset protection, and effects of the fiscal cliff on real estate investing.
Attendees listened intently as the two speakers taught the practices of the wealthy in attaining and maintaining financial success. Most had the same goal – to improve their financial status in the coming year.
The biggest surprise for many was the potential of a self-directed retirement plan to increase wealth. The Ultimate Retirement Plan segment explained the Solo 401k and its financial advantages. While most of the attendees were aware of the traditional 401k retirement plans, the Solo 401k retirement plan was not one they had previously considered.
Like traditional 401ks, the Solo 401k is an IRS-approved plan. In fact, it is a 401k plan that covers only one employee; it was designed for the self-employed and small business owner. As a 401k, the Solo 401k has the same rules and requirements.
The most significant difference of the Solo 401k is its benefits. Some of these benefits include:


High contribution limits
Checkbook control
Reducing custodian fees to zero
Loan feature of up to $ 50,000 for any purpose
The evening closed with a time of questions for the two speakers who share a background in financial planning, real estate and taxation. The speakers combined experience and expertise enabled them to answer questions with specific information and detailed help.
Achieve Financial Success in 2013 will be held again in Yorba Linda, CA next week on Tuesday, February 12, 2013. For more information and to register for this free event, please visit: http://2013success2.eventbrite.com/
About Sense Financial Services:
Sense Financial is California's leading provider of retirement accounts with Checkbook Control: the Solo 401k and the Checkbook IRA. Over the years, they have assisted hundreds of clients obtain checkbook control over their retirement accounts while providing them with the ability to invest in virtually any investment class, including real estate, private lending, mortgage notes and much more without the need for custodian approval.
To learn more about the solutions they provide, please contact: (949) 228-9393.