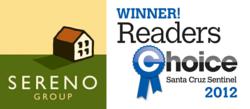 Los Gatos, CA (PRWEB) November 05, 2012
Sereno Group has been named the top real estate firm in Santa Cruz in the first annual Santa Cruz Sentinel Readers Choice Award competition. Over 6,000 votes were cast on the Sentinels online poll that determined the regions best businesses, restaurants, social hotspots, and more throughout Santa Cruz County.????
For Sereno Group to be named the #1 real estate firm in Santa Cruz is a testament to our outstanding Santa Cruz Realtor team, said Chris Trapani, Founder of Sereno Group, We have officially been open in Santa Cruz for three years and to receive the recognition from the Sentinels readership is incredible. The award is humbling and recognition of our outstanding sales team.
For this first annual Readers Choice Awards poll, the Santa Cruz Sentinels divided the area into four separate geographic areas and created over 50 different categories, representing the diverse businesses and social hubs of the region. The newspaper recognized all of the polls winners in a special Readers Choice Awards section published in this past weekends edition.
The Sereno Group Santa Cruz office opened in March 2010 and is located at 2407 Porter Street #150, Soquel and has been open since March 2010. The office currently has 36 outstanding Realtors that service the entire Santa Cruz and Monterey Coastal market.
Open since July 1, 2006, Sereno Group Real Estate has quickly established itself as a market leader by continually attracting top producing agents in the Silicon Valley. During this time, Sereno Group has achieved the highest per agent productivity for residential real estate brokers in the county. In 2011, Sereno Group ranked as the #5 brokerage in the United States for per agent closed sales volume in Real Trends annual national brokerage rankings report. The company, which has been ranked the #1 Best Place to Work in the Bay Area for two years in a row, now has six offices located in Los Gatos, Saratoga, Los Altos, Santa Cruz, and Palo Alto and Willow Glen. The 220 agents of Sereno Group sell and serve the Santa Clara, San Mateo and Santa Cruz Counties and points beyond.
For more information, visit http://www.serenogroup.com.
###