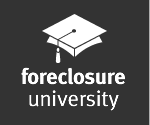 Orem, UT (PRWEB) June 12, 2013
Foreclosure University announces new transactional funding for real estate investors. This is causing a major buzz and excitement in the real estate community because it gives investors another option when trying to fund their end of the deal in order to sell to an end buyer.
Transactional funding has become more and more popular among real estate investors as title companies decided to "stop" allowing transactions that were not independent of each other. "At one time, title companies would allow investors to use their end buyers money to fund the transaction with the seller. That's not the case anymore. They want each transaction to stand on it's own independently," say Jarad at Foreclosure University.
Because of stricter title standards, this forced investors to get their own independent funding to fund the transaction with them and the seller.????Most investors went to transactional funding because it still accomplishes what they need at a low expense.
With transactional funding one of the many benefits is they don't have to provide employment verification or worry about credit because it's irrelevant. They can also leverage someone else which allows them to do multiple deals at one time. Transactional funding is only used for back to back closings and is not to be confused with other types of funding.
Jarad says, "Most of the deals we fund are short sales, reo's, and wholesale deals and in all cases we have end buyers lined up ready to fund their part."
Another big piece to doing deals is the actual proof of funds letters that banks are requiring. Jarad says they offer that as well to anyone who is needing a proof of funds letter.
Foreclosure University also created a video to help investors understand how the process works and what they can expect from transactional funding.
For those that would like more more information on transactional funding or proof of funds can visit ForeclosureUniversity.com