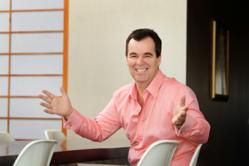 (PRWEB) December 26, 2012
A report on findings of the Institute for Public Policy (IPPR) has revealed that Britains housing affordability problems have created a generation of renters. Property investment expert, Rick Otton, has now announced a real estate investment conference for the UK to highlight strategies for home ownership without involving banks.
I was a little shocked to see that the current crop of young families in the UK have actually acquired the label of Generation Rent by the IPPR said Mr Otton. Though most economists have acknowledged that rising rental rates in the UK have been part of a challenging economic environment, the social implications are not so readily acknowledged.
Dalia Ben-Galim, associate director at IPPR, said: "Our analysis shows that the lack of houses is dragging young people down. A huge majority of today's younger generation want to own their home, just as most of their parents have done. But the prospect is slipping ever further over the horizon. Insecure renting stops them from putting down roots, but it is bad for society, too."
While the report focuses on 18-30 years who want to buy their own homes, Mr Otton believes that the findings apply to all age groups who want to buy property in the UK.
Those who believe they are locked into a lifetime of renting comprise not just the young, but also the self-employed, immigrants, single parent families, in fact anyone who cannot meet the requirements of securing a mortgage from a bank he said.
But there are other, non-bank, pathways to home ownership Mr Otton continued. For decades I have been teaching strategies that can be used to help those who have been locked out by the banks to make positive steps towards buying a house in the UK.
Mr Otton believes that the first step is for aspiring home owners to snap out of the negative concept of being renters forever, and to open their minds to alternative property investing methods – the focus of his Zero-Debt Property Cash Flow Conference 2013.
The Conference is being held 19-21 April 2013, and, acknowledging the challenging economic times in which we find ourselves, Mr Otton has introduced, until December 31 only, a payment plan divides the cost of conference attendance into four manageable monthly payments.
Details and registrations are available at RickOtton.co.uk
About Rick Otton
Rick Otton has spent decades making money by snapping up inexpensive real estate and putting it to work building wealth.
He is the founder and CEO of We Buy Houses, which operates in the U.S., U.K., Australia and New Zealand putting his strategies to work every day.
Otton received his start in alternative real estate investment in 1991 and within a year acquired 76 properties. In the following years, he made a fortune using his low-risk, high-reward strategies to inexpensively acquire real estate.
Now, Otton shares the wealth by sharing the wisdom, teaching others how to buy and sell real estate without cutting banks and other middlemen in on the deal.
In 2008 Rick revealed his strategies in the United Kingdom and became the creator of Houses for a Pound. Otton has been featured in a variety of television programs and magazines.
Details of Mr Ottons UK Zero-Debt Property Cashflow Conference are at RickOtton.co.uk