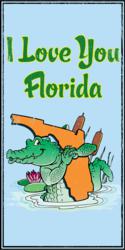 Jupiter, FL (PRWEB) September 20, 2012
Florida is one of 10 states with the strongest and most-promising real-estate market in the slow, but steady, U.S. recovery.
According to data published by 24/7 Wall St. on NBCNews.com, the peninsula ranks seventh on the list. It is followed by South Carolina, Hawaii and Montana. At the top of the list is Arizona, which saw an amazing 16.6-percent increase in home prices in 12 months. The median price of a home in Arizona came in at $ 248,229.
The Grand Canyon State is followed by Idaho, Utah, South Dakota, Colorado and North Dakota.
While Florida saw home prices drop by nearly half as the economic events of 2008 unfolded, they already have rebounded and are continuing to improve. And the best is yet to come. Data provided by CoreLogic points to the most robust part of the recovery occurring within the next five years. The data is based on the period from July 2011 to July 2012, the latest month for which statistics are available.
In Florida, that one-year period yielded a 6.6-percent increase in the price of an existing single-family home. The median price of a home stands at a respectable $ 236,000.
In South Florida, the news is even better. Waterfront Properties and Club Communities has seen dramatic improvements in home prices and a pervasiveness of consumer confidence. Those two phenomena, mixed with todays historically low interest rates on mortgages, are a major contributing factor to the boost of the single-family-home market.
RealtyTrac is reporting that, in 2017, Florida officially will have returned to its pre-2008 status because of consistent, although modest, increases in home prices. The average increase during that period is 4.2 percent.
The numbers handed down by all three real-estate-analysis firms undoubtedly are promising for the buyer. The time never been more opportune to invest in Florida real estate, especially in northern Palm Beach County. The area is flush with homes for sale in North Palm Beach, Palm Beach Gardens and Jupiter, as well as waterfront property in Hobe Sound and Stuart.
When it comes to the market of luxury real estate in Palm Beach County, the numbers are flourishing. Waterfront Properties sales agents are excelling in listing BallenIsles homes for sale, as the private community has named the company its preferred Realtor. BallenIsles offers amenity-laden properties with scenic views of its three professional golf courses.
For information about Waterfront Properties, call Rob Thomson at 561-746-7272. For information about BallenIsles, call Brian Merbler at (561) 625-5742.