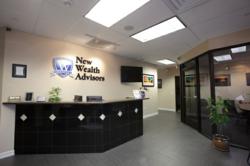 Riverside, CA (PRWEB) October 10, 2012
New Wealth Advisors Club, a local real estate investment club, located in Riverside, California, just finished nearly doubling its office space. Dave and Melina Boswell founded the real estate investing club unofficially in 2008. They started meeting out of their house and garage with a small group of friends. As the group grew they opened a small office in December 2009. Given the rapid expansion of the real estate club, they were forced to move to a larger location. Ultimately, they built a 5000 square foot office in September 2009.
At the time, they only had a hand full of individuals involved in real estate investing. January 1, 2011, they officially started New Wealth Advisors Club. Today, they have dozens of real estate transactions happening out of the offices with over 50+ investors actively participating in the organization.
On September 24th, 2012 (3 years after officially opening their doors to the public), the first office expansion is completed.

New Stats:

Total square footage: 9,936

Sublet offices: 17

Training facility: over 2400 sq. ft.
GROWTH IN A DOWN ECONOMY.
Given the economy over the past 3 years, many said the club would not be able to sustain. In fact, the property management at the complex where they are currently located, were reluctant to even rent to the organization due to the substantial hit the real estate market had on the other tenants in their complex.
Today, the management worked with the founders to expand the club and embrace the organizations massive success. The founders just extended their lease for another 6 years. The group has helped educate investors from San Diego to Sacramento to Las Vegas to Phoenix.
The growth and expansion of the club can be attributed to the grounded, service oriented culture the club adheres to. New Wealth Advisors Club prides its self on always serving others. The group works to leave homeowners in a better spot then they found them at all times. Based on the belief that word of mouth referrals and goodwill cannot be boughttoday, referrals are coming from everyone and everywhere. In fact, the owners love sharing the success of its students that they frequently video the real estate deals being closed and host them on YouTube. Today they have had over 1 million views on the clubs YouTube channel! http://www.youtube.com/newwealthadvisors
Presently, the club is focused on assisting homeowners avoid foreclosure. Primarily, the group is focused on short sales. Short sales is the process of helping a homeowner that owes more on their property than what its presently worth. It is using this strategy that New Wealth Advisors Club has used to experience its explosive growth in 2011 and 2012.
It is inevitable at the current pace that New Wealth Advisors Club will have locations in multiple counties by next year. New Wealth Advisors Club is planning offices in San Diego County in the area known as North County, San Gabriel Valley, Orange County and Los Angeles County. As the market continues to experience many homeowners desiring to short sale once their loan mod has been declined, the New Wealth Advisors Club keeps their students abreast of changes in strategy and current news regarding bank policy and programs to help home owners avoid foreclosure by always introducing up to date content in their class room.
To summarize, this dynamic community of investors, has positioned its members to realize their income goals for 2012 and the immediate future. The New Wealth Advisors Club is multifaceted in the strategies taught and utilized to make sure their members and students are ready to take on changes in the market and always be in a position to take advantage of the latest opportunities presented.
Check out New Wealth Advisors Club blog at http://www.NewWealthAdvisorsClub.com/blog