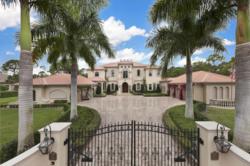 Naples, Florida (PRWEB) April 16, 2013
Naples Estate Properties is proud of Estate Agents, Emily K. Bua and Tade Bua-Bell, for their recent sales performance this season. Two sales, in particular, prominently stand out: their stunning luxury condominium at The Enclave of Park Shore was listed and went under contract in just 6 days then sold on March 19. Additionally, a spectacular estate at Pine Ridge was listed by the BuaBell Group, went under contract in less than a month and sold on March 28 to the buyer they also represented.
The BuaBell Group attributes their continued success to their expertise, knowledge and marketing of beachfront, luxury communities and gated golf course communities marketplace, combined with realistic pricing and knowing of their clients requirements.
Emily K. Bua stresses the importance of listening to their clientele; their desired features in a residence, location, price range, as well as their timeframe. These factors all play an integral role in a successful relationship between an agent and their clientele.
Our highly regarded reputation and wide breadth of contacts is an important asset when listing a property. Naples Estate Properties international affiliations and marketing provides a source of affluent buyers. Therefore, we always know in advance who is looking to buy, who is interested in the area and what they are interested in purchasing. So, when the listing at The Enclave became available, we simply matched up the buyer with our listed estate portfolio, comments Emily K. Bua.
Naples Estate Properties exclusive international marketing is a key factor for their success. The BuaBell Groups comprehensive competitive market analysis, coupled with their long-term professional knowledge of the area, provide their clients with the ability to competitively price their estate which has been proven to expedite sales transactions.
Naples Estate Properties specializes in the marketing and sale of homes in excess of one million dollars. For further information on Naples Estate Properties real estate services, please call 239.262.0022 or visit Naples Estate Properties Corporate Office, 296 14th Avenue South, Pettit Square, Naples or on the Internet at naplesestateproperties.com.