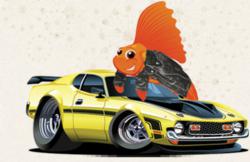 New York, NY (PRWEB) April 21, 2012
RoadFish.com mens lifestyle and finance magazine today remarked on the current increase of mortgage rates in the UK, which have held steady for the past three years and are reportedly about to make a jump.
UK mortgage rates are on the rise, according to a report from the BBC. The article reports that ten or more UK lenders have recently announced that rates will be rising for new borrowers in the upcoming weeks. The article goes on to show that figures from the Bank of England reveal that mortgage rates for a two-year fixed rate deal have risen 0.55% from September 2011 to March 2012. Aaron Strutt, who works for mortgage brokers Trinity Financial, is quoted as saying, Lenders seem to have increased their rates in two stages this week, some at the beginning and others catching up later in the week. It seems that if folks are planning on buying homes within the UK, theyll need more than just some good estate agents to help them land a deal.
Another article published by Jan Harris of the unbiased UK financial advice site Finance Markets, some of the big names included in those lenders who have increased the mortgage rates include Abbey, HSBC, Halifax, Britannia, and Lloyds TSB. Harris writes that borrowers can expect to pay between 0.1% to 0.4% more on a fixed, tracker or discounted loan. The article goes on to report that even more lenders are supposedly increasing their standard variable rates within the next couple of months, due to higher borrowing costs and the current overall state of the wholesale financial market. Banks such as Bank of Ireland, Halifax and Cooperative Bank will all bump up their standard variable rate in the coming months. Harris states that banks are blaming the jump in mortgage rates on a preceding rise in the price of raising funds to lend out to the borrowers.
RoadFish.coms Senior staff writer is quoted as saying, Its interesting to me how mortgage rates can be so radically different from nation to nation. The US mortgage rate is on the downswing, and has been for the past few years, whereas home loans in the UK are about to make a big jump. Although I will note that the BBC reports that UK interest rates have been at a record low of 0.5% for the past three years, so perhaps this recent rate increase wont be as extreme as it would have if the rates were higher to start with.
HSH Associates, a company who surveys lenders and produces mortgage statistics, has a well-constructed list of historical mortgage interest rates that goes as far back as 1983. For 2012, rates span 3.21% and 4.27, versus four years ago in 2008 when the lowest interest rate reported was 5.42% and the highest was a whopping 7.00%. According to the Bank of Englands official Bank Rate History, the UK has enjoyed a rate of 0.5% since March 5th, 2009, and hasnt seen highs even close to 7.00% since 1998.
RoadFish.coms still maintains that London would be an amazing place to live, despite the climbing mortgage rates. RoadFish.coms Senior staff writer is quoted as saying, I would still move to London in a heartbeat. My brother lives there now, and raves about it constantly. The culture, events, and history of the city are, in my opinion, chart-topping. If I ever moved there, I would definitely have to take a good hard look at the mortgage rates and depending on where they landed, I would perhaps shift gears and become a renter if they continue to increase as weve seen this month.
The above-mentioned BBC article states that according to Moneyfacts, a financial information service, the months of February and March this year indicated a large drop in the number of mortgage deals available to homebuyers. Due to the overall state of the financial market, lenders had begun to require a 50% deposit from borrowers to attain a loan even before the beginning of the year. The article includes a quote from Sue Anderson, a member of the Council of Mortgage Lenders, stating, "Funding costs have been experiencing upward pressure for lenders, who have been operating at low margins. So at some point lenders will take the decision to raise rates for good balance sheet management.
About RoadFish
RoadFish.com is an online men's lifestyle and finance magazine targeted toward men in their 30s and 40s that have already attained a moderate level of success in life, and are striving toward more. It goes over current events of interest to this group, such things as exciting adventures, making money, consumer interests, hot chicks, and the stock market as well as ways to make more and save more money. It is a publication owned by Purpose Inc.
###